Your membership in the Hutchinson Bell is making a difference. How?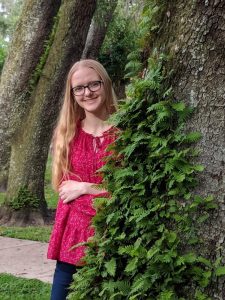 Meet Gabrielle Dorman. A Tampa Bay Tech High School graduate and the recipient of the brand new National Hutchinson Bell scholarship.
Thanks to the ongoing support from our members, Gabrielle will receive $2500 to attend Florida College this Fall. Being able to award this scholarship is a huge achievement for the Hutchinson Bell, and we hope that you, our members, are as proud as we are to be able to help Gabrielle make FC her home.
This won't be the first time Gabrielle has made a new place her home. On July 22, 2010, Laurene Dorman, Gabrielle's kindergarten teacher, adopted her from the foster care system. Laurene is a single mom who has raised four successful children, Gabrielle, Jessica (Dorman) Gilmore, Jenna Dorman, and Logan Dorman.  Gabrielle's grandparents, Andy and Lily de Klerk, are no strangers to Florida College, attending there in the '50s. In addition, Gabrielle's mom, as well as her two sisters, Jessica and Jenna, have attended Florida College.  Gabrielle is thrilled to be able to continue in their footsteps.
No doubt Gabrielle has heard stories from her family's memories of their time at Florida College, and she's made big plans for herself. She hopes to participate in some of the theatrical productions put on by Florida College's Footlighters and she also hopes that her experience working on her high school's yearbook will land her a role on Florida College's yearbook staff.
Gabrielle has been busy in her young life.  In addition to graduating a year early from the Veterinary Science Program at Tampa Bay Tech, she has also volunteered with the Temple Terrace Animal Hospital, assisted at the Temple Terrace Library with teen programs and also with Eckerd Connects in their Rooms of Hope (an organization that helps foster children and families "shop" for free items when first placed in foster care, including clothing and other needs.
After attending Florida College, Gabrielle plans to continue her education at the University of South Florida and pursue a veterinarian degree at the University of Florida. Her dream is to open her own veterinary facility with a mobile department to allow her to treat any animal in need.  We are confident that Florida College will give her a solid beginning to the long academic road she has ahead of her.
Gabrielle, we can't wait to see where the Lord leads you as you start this journey.
And to our members, thank you for making it possible for us to play a small part in the lives of young people like Gabrielle. Your support and commitment to our dear FC has not gone unnoticed.