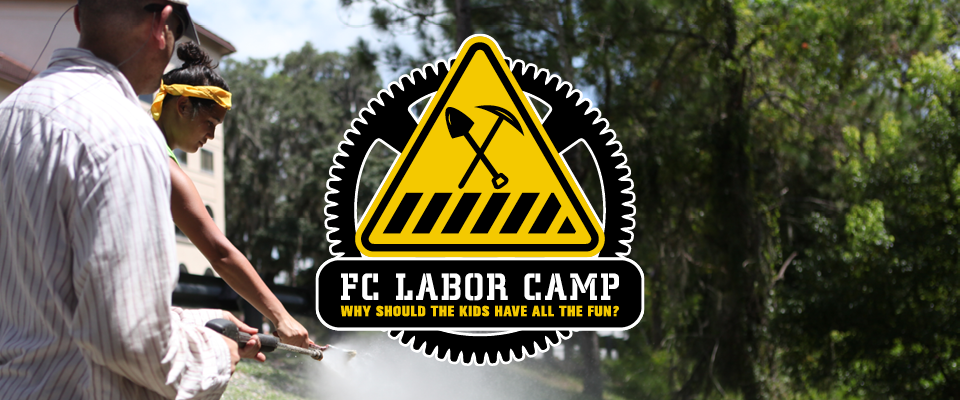 2019 Labor Camp date TBD
Exciting things are happening on campus at Florida College!  Summer is always a busy time at Our Dear FC, and this summer is certainly no exception.  The old Student Center, aka Club Morocco, has been leveled to make room for the new Campus Center.  Upstairs in the Admin building, the new classroom expansion is underway!  In Henderson Dinning Hall, a new food service company is preparing to come in and "set up shop" in order to serve a hungry student body this fall.
The key to effective multi-tasking is timing!
With the Facilities and Maintenance department fully committed to the campus construction projects and Administration personal and resources fully engaged in new perspectives and work assignments, the best way that Labor Camp can serve Florida College this summer is to change our camp date to closer when the students return to campus.
August maybe be a bit hotter than June for working on outdoor projects, but it will allow us to strike when the proverbial iron is hottest for maximum effectiveness.  This summer's new Labor Camp time is two weeks before students arrive on campus!  This timing will allow Labor Campers to help faculty and administrators move into their new locations, as well as furnish and equip new classroom spaces. The last minute, desperately needed, "crunch time" projects will be an incredible value to the college. Not to mention the amazing "moral boost" that Labor Camp continues to provide year after year to the entire FC family.
We know that this timing change may not work with every Labor Camper's summer schedule.  We sincerely apologize if you had planned to come in June but are unable to rearrange your schedule to come in August.  Please forgive us this last minute change for the greater good.
As always, we plan to house folks in beautiful Boswell Hall.  We will work together. Eat together. Play together.  And most of all, we look forward to being drawn closer together as we praise, pray, and study God's word. Lord willing, see you in August!
 The dates for the 2019 Labor Camp are TBD. Click here to register!
"From His abundance we have all receiving one blessing of grace after another" John 1:16
Craig Bean, Labor Camp Director